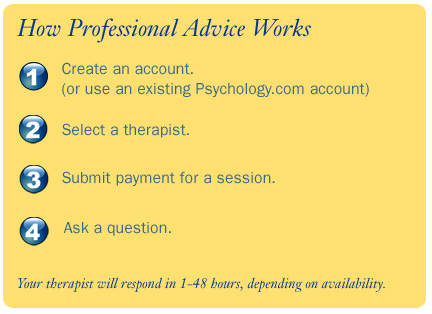 Expert advice from licensed professionals can be extremely helpful for anyone. The advantages of our online Professional Advice online therapy sessions include:
Convenience
Posting questions and reading responses can be done anytime and anywhere. You can get help for depression or stress help as you need it.
Annonymous
All interactions between you and the e-therapist remain completely annonymous. In addition, all exchanges between you and the etherapist are conducted on our secure website, and not by e-mail. This adds an extra layer of security.
Cost
The fee for an online e-therapy advice session is significantly lower than that of a traditional office visit.
Effectiveness
Because of the convenience and confidentiality of this arrangement, you may find it easier to get the depression help or anxiety help you need; therefore, online therapy may be quite effective for you. Please note that online anxiety therapy and depression therapy is meant to be a supplement to traditional counseling, not necessarily a substitute.
Experts
We are able to connect you with highly recommended professionals in the areas you need. If your particular case requires a child psychologist, we have licensed e-therapists who specialize in that area. We also have marriage therapists, family therapists and relationship therapists in our database who can help you with those specific matters.
Frequently Asked Questions about Professional Advice
Get Professional Advice Now.
Licensed therapists are available to discuss a variety of topics including:
ADHD/ADD
Abuse
Anger Management
Anxiety and Panic
Addiction and Recovery
Depression
Divorce/Separation
Fears and Phobias
Grief/Loss
Parenting
Self Esteem
Sexuality