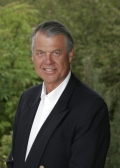 Don Bissett, LPC
Integrated Medical and Wellness Center


Licensed Professional Counselor (Colorado: LPC-2321)

Overview
My theraputic method is to first listen carefully to gain an understanding of why my patients are now seeking help. In partnership with my patients I can often identify and help them to identify the "rules" that are running their lives. Many of my patients have been told to "just get over it" and feel miserable because they can't. It is a great relief for many patients to have someone who will listen without judgment. I will create an environment in which each patient can grow, learn and change.

At it's best therapy is a process of self-discovery that results in the development of insight into why we do what we do. My belief is that patients are the ones who know themselves the best. That is why I work with the patient to develop goals for therapy, how often to attend and when to terminate.

Whether you choose me or someone else for therapy you've already taken an important step toward getting better. To determine if I'm the right therapist for you, you're welcome to call me for a free 20 minute consultation over the phone or in person.

Brief Background Information: I have over 25 years of experience in providing counseling for individuals, couples and families. After graduating with my Master's degree I served as a pastor for six years. I then returned to graduate school to complete the courses necessary for my licensure as a counselor. Simultaneously I was in training at the Texas Research Institute of Mental Sciences in Houston, Texas. I was licensed as a Marriage and Family Therapist in Oklahoma and Texas and as a Professional Counselor in Texas and Colorado. I've trained many therapists since I completed the requirements as an Approved Supervisor in AAMFT. I became and Accredited Grief Counselor in 2004 and more recently trained and began to practice as an Interventionist.

Specialties:
ADD/ADHD
Addiction
Adolescent
Alcoholism and Family
Anxiety
Career Transition
Couples
Depression
Divorce Counseling
Grief/Loss
Infertility
Internet Addiction
Intimacy
Male Sexual Dysfunction
Marriage/Family
Meditation
Men's Issues
Mid-Life Transition
Panic Disorder
Parenting
Post Traumatic Stress Disorder
Relationships
Sexual Abuse
Sexuality
Spiritual Issues
Substance Abuse
Suicide Survivors and Family
Trauma
Additional information


Gender: Male

Years in Practice: 25

Accepted Insurance Plans:
My fees are on a sliding scale that starts at $60 for $35,000 of income/year. The fee goes up $5 for each additional $5,000 in income. For example, $40,000 in income and the fee is $65, $45,000 in income and the fee is $70, etc. to a maximum fee of $125. I am a preferred provider for Cofinity Insurance, Great West, Cigna, Blue Cross/Blue Shield, Value Options, Aetna and others. If I am not a preferred provider for your insurance I'm glad to bill your insurance as an out of network provider.

Education:
B.A. Hardin-Simmons University, M.Div. Southern Seminary, D.Min. (Candidate) San Francisco Seminary, In addition I am a Clinical Member and Approved Supervisor in the American Association for Marriage and Family Therapy, an Accredited Grief Specialist, a Diplomate in the College of Pastoral Supervison and Psychotherapy and an Accredited Interventionist.

Days and Hours Available:I'm available Sunday-Saturday with some evening appointments. You may make an appointment by calling me at (970)390-7377. I also offer an initial 20 minute consultation at no charge.


Address:
Riverwalk at Edwards, #G-1
Edwards, CO 81632
Map

Telephone:
(970) 390-7377


Address:
Riverwalk at Edwards, #G-1
Edwards, CO 81632
Map

Telephone:
(970) 390-7377

Website:
www.couples-counseling-vail.com

Email Therapist
---
For Therapists:


---