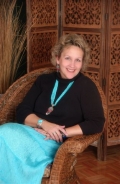 Diane M. Berry, MSW
Blue Waters Family Counseling, S.C.


Licensed Social Worker (Wisconsin: 6531-123)

Overview
Diane M. Berry, MSW,JD


Member: Cognitive Behavioral Therapy Association
Certified Wisc. Batterers' Treatment Providers
National Association of Social Workers
State Bar of Wisconsin

After beginning my professional career as a divorce lawyer, I realized that the part of my work I most enjoyed was the first appointment with a new client, in which we would discuss all of the issues they were struggling with, legal, emotional, financial and the like, and make some decisions about what, if any, actions they wanted to take at this time. After that point, my job was relatively unexciting and often amounted to "dividing up the silverware!" So, after experiencing a divorce and eventual remarriage, I made the decision to go back to graduate school as a mother of three for my Master's in Social Work so I could work with clients regarding those emotional and relationship issues where I felt my true strength lies. For the past 15 years, I have been working with clients on a wide variety of issues, but have developed a special expertise in the areas of anger management, domestic violence treatment, divorce adjustment, online dating and personal and professional life coaching.

My therapy style tends to be eclectic, but I believe strongly in a holistic approach and attempt to integrate body, mind and spirit into my work. I also tend to use solution- focused techniques as I believe that looking forward and being positive is more helpful than focusing too intently on the events that are keeping us stuck where we are. Similarly, I am a member of the Cognitive/Behavioral Therapy Association and assist my clients to identify and change negative thoughts that are preventing them from achieving the outcomes they want. My clients tell me that I am easy to talk with and open up to. I meet most of my new clients via word of mouth and frequently have past clients come back for a bit of follow-up counseling when they are faced with a new challenge in their lives.

Finding myself in the position of searching for a book to give to a client to help educate her on one issue or another, I have also written three books: Child-Friendly Divorce: A Divorce(d) Therapist's Guide to Helping Your Children Thrive (2004), Romancing the Web: A Therapist's Guide to the Finer Points of Online Dating (2005) and finally, in 2008, A Peace of My Mind: A Therapist's Guide to Handling Anger and Other Difficult Emotions. My last book is a culmination of the information and resources used in the Peaceful Alternatives to Family Violence domestic violence treatment group that I have co-facilitated with my husband for the past 15 years. The books are available on our website, www.bluewaterspublications.com and also on www.amazon.com.

As I spend much time teaching my clients new ways of looking at life events they have experienced, I have also taught Continuing Legal Education Workshops for Attorneys and Guardians ad Litem and college level psychology courses. It is my goal to offer gentle, compassionate, effective help with a variety of issues to help facilitate personal growth and wellness in every individual.

Remember:
"We can't control the wind,
But we can adjust our sails."

Specialties:
Adults
Agoraphobia
Anxiety
Behavioral Problems
Bipolar Disorder
Career Transition
Chronic Pain
Coaching
Communication
Couples
Depression
Divorce Counseling
Domestic Abuse
EMDR
General
Grief/Loss
Group Therapy
Intimacy
Life Coaching
Marriage/Family
Meditation
Mid-Life Transition
Mood Disorders
Obsessive Compulsive Disorder
Panic Disorder
Parenting
Phobias
Post Traumatic Stress Disorder
Postpartum Depression
Relationships
Seasonal Affective Disorder
Self Esteem
Stress
Trauma
Women's Issues
Additional information


Gender: Female

Years in Practice: 15

Average Cost Per Session: $140.00

Accepted Insurance Plans:
Most insurance plans accepted. WPPN provider.

Education:
Juris Doctorate, University of Wisconsin Madison, 1983; Masters Degree in Social Work, University of Wisconsin Milwaukee, 1995

Days and Hours Available:Morning, afternoon and early evening hours available.


Address:
2215 Washington Street
Manitowoc, WI 54220
Map

Telephone:
(920) 683-3911

Fax:
(920) 683 3411

Website:
www.bluewatersfc.com



---
For Therapists:


---