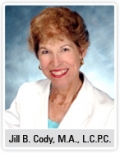 Jill Cody, M.A., L.C.P.C.


Licensed Professional Clinical Counselor (Maryland: LC0029)

Overview
Author of the book Win the Weight War.

My professional mission is to help you accomplish your goals, achieve your objectives, and enhance the quality of your life through one of three ways:

1) A collaborative, goal-oriented counseling relationship.

2) Personal life coaching focused on performing at your best—your own personal excellence.

3) Seminars, Workshops, and Keynote Presentations custom-designed to transform your internal perspectives to empower and enhance your life.

All are based on professional ethics, integrity, enthusiasm, and an enduring belief in one's personal capacity for development and progress.

My Philosophy:
We all have the inner resources we need to achieve any goal we set. We form a collaborative relationship designed to help you tap into those resources and learn how to use them successfully in pursuit of your goals. By asking significant questions and offering appropriate suggestions, I can help you think about problems differently and map out efficient and effective action plans.

It is important for you to understand that I will honor your personal dignity and integrity. Using my skills, training and experience—in combination with your personal potential, stated goals and objectives, and unique life perspective; we can transform your personal and professional dreams into reality.

I can help you utilize dynamic, effective strategies to achieve successful outcomes, access internal resources, and tap into your unique mental capacities to improve the quality of your life.

Most problems are caused by unrealistic, impractical, unproductive, or unsuccessful attitudes or perspectives. By providing an objective opinion and perspective, we can create empowering beliefs and strategies which would determine how you achieve your goals and objectives. Our work together focuses on "changing how you feel inside, how you think about any given situation, and how you can generate different, more successful behaviors." This is the crux of goal-oriented counseling.

My clients include individuals from a wide range of ages, levels of education, as well as economic backgrounds and career aspirations. What they have in common is that their choices in life are not getting them what they want. Clients clarify their most important goals and evaluate the specific skills and strategies necessary to accomplish them. By focusing on the significant questions and offering appropriate suggestions, clients can span the chasm between knowing what they should do, and actually doing it. They adopt new approaches to old obstacles.

Communicating these ideas and perspectives to the most people possible is of high value. Therefore, I have included the most important concepts in "Transforming Perspectives" as topics for keynote presentations, workshops, seminars, articles, and books.

Specialties:
Adults
Aging
Anxiety
Career Transition
Coaching
Communication
Hypnosis
Life Coaching
Mid-Life Transition
Phobias
Women's Issues
Additional information


Gender: Female

Years in Practice: 35

Education:
M.A., Counseling Psychology. Trainer NLP. Certified Clinical Hypnosis.


Address:
186 Thomas Johnson Dr., Suite 200
Frederick, MD 21702
Map

Telephone:
(301) 662-2266

Website:
www.jillcody.com


---
For Therapists:


---